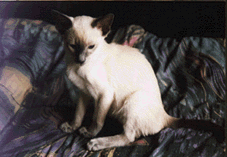 Tashira was trusted to me at the age of 3 months. Through a fine Siamese Cat "matchmaker" I found a very good breeder. This is very important finding a perfect cat. Tashira's breeders are "Calvencade Cats", they raise their kittens inside their home. That's important to me. Because Siamese cats tend to be self-conceited and never the less sometimes show some fear, I think it is very important they spend their first months with people around.
Babypictures of Tashira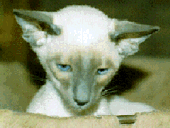 This is Tashira's father. As you can see, Tashira looks very much alike. This cats name is "Destiny Finish in Blue" and like Tashira he is a beautiful Bluepoint.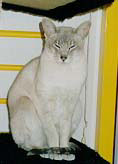 This is Tashira's mother. "Atahualpa Emily". Emily is an international champion, she is a Blue tabbypoint. This means her fore head is striped in stead of one color only.





Go to Floris en Yasmina