Sculptures & Must Haves

Leolee Feline sculptures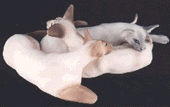 If you want beautiful sculptures of Siamese Cats this is the place to be. All sculptures are numbered and limited editions. There are several colors and sizes and if you want more cats in one sculpture, it is available too. You can ask for a brochure online but of course it is also possible to order right away.



Siamese Stamps

Needleshop, Chocolatepoint Siamese Cat to embroider

Set of 3 Mini Siamese Cats - Sculptures

Siamese Cat T-shirt

Siamese Cat Art, Cards & Posters

Siamese Cat Figurines, 3 nice characters

Siamese Cat Jewelry Pin

Siamese Cat Bronze Sculpture - Sculpture

Siamese Cat by Royal Dux Porcelain - Sculpture

Royal Crown Derby Siamese Cat - Sculpture
Movies & Books

Guide to Owning a Siamese Cat

Barron's Siamese Cats, by Marjorie McCann Collier

The Chinese Siamese Cat, book with audio cassette and poster

The Cat's House, turn your home into cat's paradise

Homeward Bound - Movie about two dogs and a Siamese Cat

Homeward Bound II - (the sequel)

Men in Black, afther the little dog is a siamese in picture.
Catfood

Hill's Pet Nutrition, Science Diet®,Prescription Diet® and HealthBlend®.


IAMS and Eukanuba catfood, from high quality.


Prins, Dutch food.


Techni-Call Kattenvoer, information over Techni-Call food.


Waltham, the make the catfoof "Whiskas".


Sheba, become a member of the Sheba Cat Club.


Felix, catfood with nice shop.





Previous Page