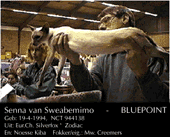 Cattery Calvencade Cats is a member of the NKFV and the speciality is the American bluepoint Siamese but you can also take a look for some other colors.
This site is very informative, there is a lot of information about different saimese cats, the breeding of different colors, how you can bring up your Siamese.A very informative site with many links etc...
This site is obviously made by Siamese lovers.


Cattery Calvencade Cats
Who are we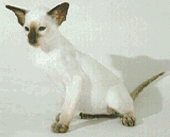 Cattery Siau Tsj'oe speciality is the Redpoint. Here you can see the most beautiful pictures. They also have one of the most famous Siamese at home "Red Crusader". If you want to see some pictures of him or his family than this is the right address.


Cattery Siau Tsj'oe



This Cattery is a co-operation between a Dutch and Australian breeder. You can take a look in the photo album plus, they have some nice link pages.



More Cattery's